Only Selected Participants will register for whole day theater round activities where they will get event materials, T-shirt, Certificate, Badge, Medal, food and water against BDT 1020 (One Thousand and Twenty Taka).
Deadline: 28th February 2019
Only SELECTED Participants will register here!
Form: https://goo.gl/QBQ1NJ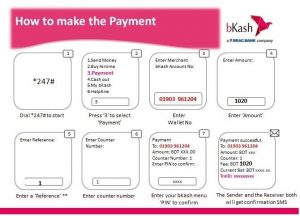 ***1. bKash Payment Service:
Payment bKash Number :01903961204 (Merchant )
[] Dial *247#
[] Select 3 (Payment option)
[]Amount 1020
[] Type 1 in Reference option
[] Type 1 in Counter option
#Merchant Number only for *Payment option from personal bKash account or shop if they have this service.
*2. bKash Personal Numbers for #Send_Money(can be sent from any personal)/ #Cash_In (can be sent from any agent shop) Option:
[] Numbers: 01850880613,01816035260,01764440092,01903961205
Multiple registrations can be possible from ONE bKash Number.
So, you may do it with friends and relatives.
রেজিস্ট্রেশন:
বিকাশ করে (1020 TK) Trx ID + যেই নাম্বার থেকে বিকাশ করা হয়েছে তা লিখে রেখে তারপর ফর্ম লিংকএ ঢুকে ফর্ম ফিলাপ করা সহজ।
আপনি যদি ফর্মটি পূরণ করে থাকেন তাহলে সেখানে সাবমিট বাটন ক্লিক করার পর পরই একটি কনফার্মেশন এবং নির্দেশনা থাকে।
ধন্যবাদ।